Mr. Shea, Art Teacher and Art Club Sponsor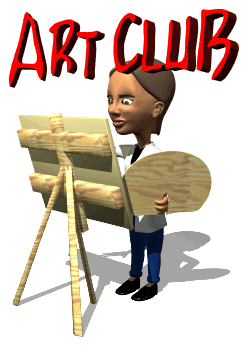 Posted 11/4/14
We will be having
3rd
Grade Art Club
Wednesday Jan 21st-Wednesday Jan 28th and
Thursday Jan 22nd
-
Thursday Jan 29th
. Class will start at 3:45-4:45 pm after school. Each class will consist of doing a special project that could not be done in the regular class setting. The 4th Grade students that are interested in participating will need to fill out and bring back their permission slip by
no later than
Friday January 13th.
The students' names will be put into a lottery and 15 names will be drawn for each class (a total of 30 names per grade level). Students that are chosen will need to commit to come to both sessions because of strong interest, limited availability, and intensity of the sessions. The cost is $5, which should be paid at the time of the first session. A note will be sent out to those students participating before the first class beings.
If you have any questions, please call Mike Shea, art teacher, at 348-1965.
Thanks!